Planning for our 2017 is in Full Swing.
Call today if You Would Enjoy Joining Our Coordination Team.

Gifts designated for the 2017 event can be made on this page or on our general donation page. When using the general donation page please note that the gift is for the
Children's Christmas Joy event.
This year's drive begins November 1st and will run through December 4th.
Our distribution event is Friday, December 8th 11:00-4:00 and Saturday, December 9th 10:00-2:00.
Please prepare now to request a barrel to use at your location this fall.
We are available to present this unique and important event at your club, business, civic group, church or neighborhood gathering!

Promotional Materials:

2017 CCJ Flyer w Baby Image 1.pdf

2017 Snowman w Image Colored Text Flyer-1.pdf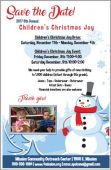 2017 Snowman w Image Black Text Flyer.pdf
Multi Images Per Sheet
Snowman w Image 2017 Donor Save the Date 2 up.pdf
Snowman w Image 2017 Donor Save the Date 4 up.pdf
Snowman w Image 2017 Client 4 Up.pdf