Planning for our 2016 Event has begun.
Gifts designated for the 2016 event can be made on this page or on our general donation page. When using the general donation page please note that the gift is for the
Children's Christmas Joy event.
This year's drive begins November 1st and will run through December 2nd.
Our distribution event is Friday, December 9th and Saturday, December 10th.
Please prepare now to request a barrel to use at your location this fall.
Promotional Materials: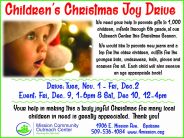 Childrens_Christmas_Joy_2016.pdf
Childrens_Christmas_Joy_2016.jpg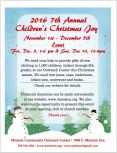 Childrens_Christmas_Joy_2016.pdf
Christmas_Joy_handout_2016.pdf