Mark 20:8-16
8-12 "When evening came the owner of the vineyard said to his foreman, 'Call the labourers and pay them their wages, beginning with the last and ending with the first.' So those who were engaged at five o'clock came up and each man received a silver coin. But when the first to be employed came they reckoned they would get more, but they also received a silver coin a man. As they took their money they grumbled at the farmer and said, 'These last fellows have only put in one hour's work and you've treated them exactly the same as us who have gone through all the hard work and heat of the day!'
13-15 "But he replied to one of them, 'My friend, I'm not being unjust to you. Wasn't our agreement for a silver coin a day? Take your money and go home. It is my wish to give the latecomers as much as I give you. May I not do what I like with what belongs to me? Must you be jealous because I am generous?'
16 "So, many who are the last now will be the first then and the first last." J.B. Phillips Version
The Impact is Real and it is Daily!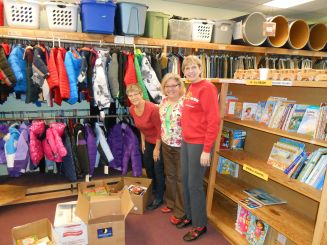 Taking up where Mark left off, the small grant from the City of Spokane's Community, Housing & Human Services department awarded in the last application cycle became a baptism by fire into this new role for me! Mark's excellent work to achieve this grant succeeded in making the money available but the next step was to actually get it here to the Center!  In the days after I began it became apparent that the rules and procedures at City Hall for federal compliance had changed drastically. 
This gave me an excellent opportunity to learn about grant writing practices and meet many of the people Mark worked with to secure the grant. Record keeping had increased dramatically during the time that we had applied for the grant and the City Hall staff were professional and apologetic while explaining the new process. The office we worked in overlooked the City and we could almost see the Center. I had time to share the kind-hearted nature and work of the Center, and the volunteer history the Center is founded upon.
Mark experienced direction from the award panel during the award presentation encouraging him to make clear the mission and impact on our clients at the Center on a daily basis for a future grant application. Reading his resulting letter while preparing for the interview process for this position led me to determine to observe and record this aspect of Center life for future applications but also for my own understanding of our outreach. His own description of the impact of the daily operations at the Center was so well done that I have kept it on the site in the Newsletter section.
The Center reminds me each day of the words of Jesus recorded in Mark 20:8-16. My desire to serve our volunteers so that the Center can successfully continue the mission of reaching out to those struggling in our community gives way to my desire to personally help those who come to us. Working weekly with pregnant single moms, families living day to day to support their children on two small incomes, homeless people in a variety of circumstances, newly released prisoners and mentally ill citizens as well as refugees and immigrants is a humbling experience. It is even more convicting to have the privilege to work each day with men and women who worked their entire lives giving and caring for their families and others but who want to keep working and working to give others care and opportunity here at MCOC, knowing that they actually are earning the greatest wage.

 The impact is real and it is daily!
Thank you for the privilege of joining the MCOC Team,
 Ruth Wagley
Executive Director